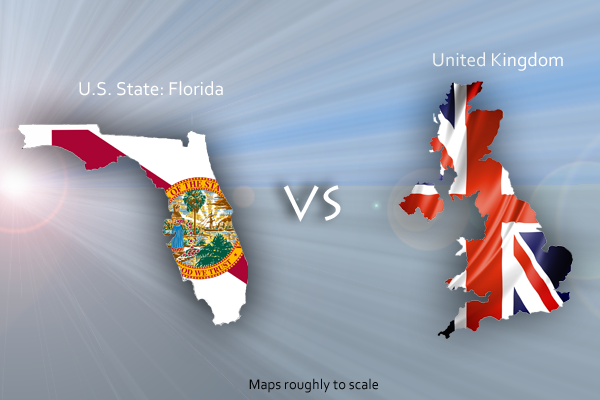 At the risk of stating the bleeding obvious, the United States is an extraordinarily large place. It is so large, in fact, that 11 of its states separately possess a total area larger than that of the entire United Kingdom. This is truly mind-boggling, especially given that the UK is itself comprised of four nations.
That is precisely why I have undertaken this weekly project: tabulating the statistical differences (and sometimes similarities) between each of the fifty states and the United Kingdom. This week, we're going to assess how the state of Florida shapes up against the UK in each of the data areas listed below.

Please keep in mind that the contents of the following table do not serve any social or political agenda. Moreover, this table—as well as those of the other 49 states—is subject to revision, correction, and/or updates as and when such alterations are needed.



MURDER RATE (PER 100,000 PEOPLE)

(Statistics recorded in 2012)

(Statistics recorded in 2012)

INCARCERATION RATE (PER 100,000 PEOPLE)

$9.96

(for workers over 21)

VEHICLES PER 1,000 PEOPLE

MINIMUM AGE FOR FULL, UNRESTRICTED DRIVING LICENSES

(or 16 for some people claiming mobility benefit).
This article was written by Laurence Brown. Laurence is a British expat living in Indianapolis, Indiana. He is a contributor for BBC America and has written for Anglotopia. He is Editor-in-chief of Lost in the Pond and loves nothing more than to share these articles with anglophiles, expats, and other interested parties on social media. Follow Lost in the Pond on Facebook, Twitter and Google+.